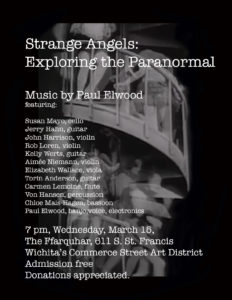 STRANGE ANGELS: EXPLORING THE PARANORMAL (conceived in 2010; instrumentation and compositions evolving each performance) – an evening length program of chamber compositions (Shadows Red With Distant Suns, A Miasmatic Company of Ghosts, From a Far Corner of Memory [1972]); electronics (Strange Angels, Voiceless Transit [w/acoustics]), and folk-oriented tunes (UFOs Over New Zealand, Alien Trees, Laredo), etc.  All compositions focus on aspects of paranormal experience and interaction with dance and video. Past performances in Wichita, Kansas, March 2017; the Witching Hour Festival, University of Iowa, November 2016; the Nuit d'hiver Festival, Marseille, France, December 2016; the Harwood Museum of Art, Taos, New Mexico, June 2010 and December 2012; and the UNC Edgefest, February, 2011.  Contact me if you are interested in hosting a performance of this exploration of the possible beyond.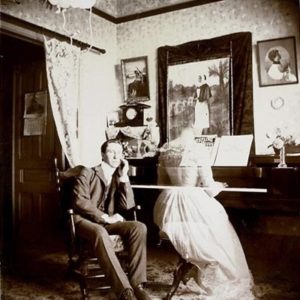 THE TAMING – opera in process with chamber ensemble based on Shakespeare's Taming of the Shrew. In creation with librettist/opera impresario Brian Luedloff.  We're developing a less misogynistic take on the story.
COMMISSIONING CONSORTIUM FOR PERCUSSION ENSEMBLE – Please see http://paul-elwood.com/a-ghostly-theatre-of-reflections/ for more information on "A Ghostly Theatre of Reflections," a percussion composition in three movements to be completed in August 2018.