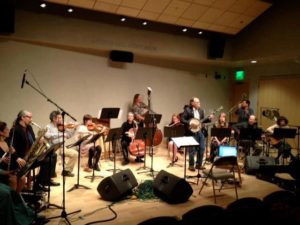 September 25, 2017 :
Emissions Transparent, performed by the Callithumpian Consort of the New England Conservatory, Steve Drury, director, Pablo Gomez, electric guitar soloist, . New England Conservatory, Boston, Massachusetts.
November (exact date TBA)
Briana Meyers and Aimee Niemann premiere "Left Handed Compliment," for box, violin case, iPhone tone tone generators, and bird calls. University of Northern Colorado.
November 24-27, 2017 :
UiTM University Technologia MARA.  Performances of various works while visiting to give lectures, master classes and concerts, Kuala Lumpur, Malaysia.